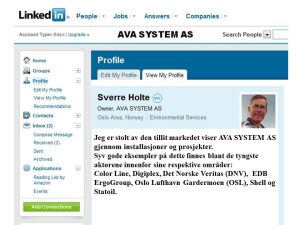 2017 AVA SYSTEMS Nordic AB was founded. AVA Systems got its sister company in Sweden established in April 2017. The office is established with address in Askim. This is a suburb located on the south side of Gothenburg. With this establishment we trust we are even better positioned forward to serve the Nordic region in a good and professional way. AVA Systems Nordic AB has in collaboration with Velec Industrial Services A/S in Denmark installed a Logstor/AVA SafePipe for transport of diesel locally within Amagerværket, located in Copenhagen. This powerplant, today owned by HOFOR, is producing approximately 500 MW of electricity and in excess of 700 MW of heat. From the plant and over to Nørrebro, an area in Copenhagen, the largest remote heat tunnel in Denmark with a diameter of 4,2 meters has been in service since 2009.
2016 AVA SYSTEMS AS expansion of the contract with Ronneby flygplats / Blekinge flygflottilj F 17 Kallinge in Sweden. Furthermore, AVA Systems installed TraceTek monitoring system for JET A1 at existing construction at Stockholm Lufthavn, Arlanda. In sum, the activity in Sweden is growing steadily and the firm will start planning for further growth.
2015 AVA SYSTEMS AS in collaboration with K-Svets, Konstruktionssvets LK AB, wins a contract for building a new fuel and distribution system for GKN Aerospace's test center for air-engines in Trollättan, Sweden. The project is based on AVA SafePape System and technical solutions. A few weeks later we win another contract in Sweden for distribution of JET A1 fuel to Ronneby flygplats / Blekinge flygflottilj F 17 Kallinge. This time together with Bravida Sverige AB, Divisjon Syd. 2015 was a good year for AVA Systems with good progress in Sweden.
2014 AVA SYSTEMS AS together with B.T. Rørsystem got a contract with Polarbase/Statoil regarding delivery of tanks for fuel operation at the base. The new tank farm is based on the LOGSTOR/AVA Systems SafePipe solution.
2014 AVA SYSTEM AS AVA System AS changed name to AVA Systems AS.
2013 AVA SYSTEM AS another year with busy days at Gardermoen. "Ring Nord" for JET A1 transport in SafePipe pipe-system is done, and the planning for JET A1 at gates around the new "pir Nord" has started. The work put in IT housing – data storage – is paying off, and AVA is getting new partners as well as keeping good relations with former customers. We expanded the installations at Digiplex, Nets, and Basefarm, as well as continuing regularly yearly maintenance.
Furthermore, we upgraded and installed new installations for oil companies in the Nordics. For instance, A/S Norske Shell have several installations with monitoring systems delivered and installed by AVA Systems. Looking after and taking care of the environment, as well as safety, is an issue that's been getting more attention lately.
2012 AVA SYSTEM AS focused on installations at Oslo Lufthavn Gardermoen. Working at an airport that are fully operating involve many companies and people. Well though trough planning and flexibility are key to success in a hectic working environment.
2012 AVA SYSTEMS AS founded AVA Aqua Norge AS as a fully owned daughter company. Due to a rising demand for products and services in the building-construction, as well as Norway becoming a member of BREEAM (building Research Establishment Environmental Assessment Methodology.) According to BREEAM: "More than 250,000 buildings have been BREEAM certified and over a million are registered for certification – many in the UK and others in more than 50 countries around the world." AVA Aqua will specialize in water- and water usage, monitoring with the idea of detecting leaks that can go undetected over time, and the overall damage and economic loss a water leak can cause if it doesn't get detected early.
2011 AVA SYSTEM AS large contract with SKANSKA -indirectly with Oslo Lufthavn AS – for delivery and installation at Gardermoen with AVA SafePipe System technology for pipe-transportation of JET-A1. TraceTek, which is designed in and implemented in the Safe-Pipe construction by AVA Systems have proven to be stabile over time in the installations that have been operating at Gardermoen the past few years. OSL, together with the engineering companies that draw and calculate new builds at airports, have found technology that fit their challenges regarding environment and safety issues through using SafePipe for pipe-transportation of JET A1 fuel. SKANSKA, which is in charge of the new T2 extension and AVA Systems got an agreement and worked closely throughout the entire project.
2010 AVA SYSTEM AS is awarded its largest single contract with OSL – Oslo Lufthavn AS for implementing SafePipe on Oslo Airport Gardermoen. SafePipe, delivered and installed by AVA SYSTEM AS, is used for pipe transportation of JET-A1 fuel for the areas "Fjernoppstilling Syd" and "Commuterlounge". Implementation period: 2010/2011.
2010 AVA SYSTEM AS is awarded contract with IBM Norway – Rosenholm Campus – for the TraceTek TT1000 technology solution for early warning with respect to possible leaks from the cooling or the air condition systems in the new data facilities built for Digiplex .
2010 AVA SYSTEM AS further strengthen its position in Sweden with collaboration agreement signed with Enaco Sweden (Enaco Sverige AB).
2010 AVA SYSTEM AS, new address in Sweden.
2010 AVA SYSTEM AS sign new and enhanced agreement about sales/distribution/marketing with Tyco Thermal Controls with respect to TraceTek Leak Detection and Speciality Heating Products.
2010 AVA SYSTEM AS makes an agreement with CADIS about sales/distribution/marketing with respect to Early Warning Systems.
2009 AVA SYSTEM AS goes into an agreement with LOGSTOR about sales/distribution/marketing of SafePipe.
2009 AVA SYSTEM AS renew earlier signed agreement about sales/distribution/marketing of all Channell products to the Nordic countries.
2009 AVA SYSTEM AS enhance the current agreement about sales/distribution/marketing of Cabletec products to the Nordic countries.
2008 AVA SYSTEM AS terminates the partnership agreement with Teknordic ApS in Denmark entirely, and sell 100% of its shares. TekNordic Norway is terminated and removed from the Norwegian trade and VAT registers.
2007 AVA SYSTEM AS in power of representing 50% of the shares decides to found TekNordic Norway as a 100% owned company by Teknordic ApS.
2006 AVA SYSTEM AS is founding Teknordic ApS – Denmark in November with 50% ownership and 50% of the shares.
2005 AVA SYSTEM AS signs an agreement with Cabletec Ltd 2004 AVA SYSTEM AS signs an agreement with Channell Corporation 2004 AVA SYSTEM AS goes into an agreement about sales/distribution/marketing/service of TraceTek Leak Detectionmanufactured by Raychem / Tyco Thermal Controls.
2004 AVA SYSTEM AS was founded in May 2004 by Sverre Holte.